SALES
   

Planet Honda's award-winning sales staff:





William S. Feinstein - General Manager  bfeinstein@planethondanj.com


Sue Lerch - Director of Customer Service  slerch@planethondanj.com


Eddie Amorin - General Sales Manager  eamorin@planethondanj.com


Chigbo Mbaekwe, Gang Wang, Jay Morris, Sal Lanuto, Luke Cwiek - Sales Managers

Paul Almeida, Used Car Director   palmeida@planethondanj.com


Jaime Vasco, John Zingani and Eli Jimenez - Used Car Sales Managers

Lucio Costa and Wayne Murphy - Used Car Buyers



Sales Phone # 877-411-8066 or 1-800-Planet H

Sales Fax #  908-686-8971


Finance Department

Kelsey Moore, Co-Director   kmoore@planethondanj.com


Ray Gambino, Co-Director    rgambino@planethondanj.com


Jorge Dutra, Levie Frink, Delio Countinho, Richard Scott, Brian Derkman, John D


Phone # 908-964-1600, x4010


Fax # 908-964-7207


Special Finance Department

Joe Messina - Special Finance Manager  jmessina@planethondanj.com


Special Finance Phone # 908-851-5514

Special Finance Fax # 908-964-3404


Baron Ringler - Internet Manager   bringler@planethondanj.com

Phone # 908-851-5505

Fax # 908-686-8971

The Internet Team:  Alessandra, Shalitha, Shezrae, Alice, Monika, Kristen, Ashley, Courtney, and Nicolette




SERVICE

Here at Planet Honda, we recognize the need to regularly
service and take care of your prized possessions, namely,
your car! Why agonize over buying one if you don't take
care of it? That's why we've put together a staff of the most
highly-trained Honda service professionals in the metropolitan area.
We're one of the top "Fix It Right the First Time" Honda dealers in 
the United States. That means we don't want you to come back!
At least not for the same problem.
We fully believe in "Peace of Mind with Honda Care."
This means you should Protect Your Investment and have your
car serviced regularly and we want to help you do it. 
Planet Honda's award-winning service staff:


Scott Gavitt - Service Director
sgavitt@planethondanj.com

Mike Goworek - Service Drive Manager
mgoworek@planethondanj.com

Carmen Semenza

, Louis Cocchiaro, Matt Papol, Jose Dos Reis

- Service Advisors

Lynn Mitchell, Alain "Jim" Nisen, Catalina Garcia-Zuniga, Monique James - Appointment Coordinators and Service Customer Relations
servicedept@planethondanj.com

Service Phone #: 908-851-5597

Used Car Service Phone#: 908-851-5568

Used Cars/Prep Manager - Fausto Artiago

Prep Department - Steve Saunders, Rich Schroeder

Prep Department Phone #: 908-851-5569

PARTS and BODY SHOP

So now you know you can certainly purchase a great car, and you know we have the facilities to service that car for its life, but what about if you want to spice it up with some new wheels, or if you NEED a part to get back on the road? Well, welcome to Planet Honda's Parts Boutique. We're extremely proud of our amazing Honda parts inventory. We have nearly $1 million in OEM Factory parts inventory and a complete line of accessories and boutique items to enhance your vehicle and lifestyle! We also have a complete on-the-premises shop with a complete line of Planet Honda clothing and more. Check in any time and see what's in store!

Check our our TIRE WEBSITE!  Planet Honda Tire Center
Planet Honda also has a state-of-the-art full service BODY SHOP. We service ALL TYPES OF VEHICLES and
work with ALL INSURANCE COMPANIES.

Planet Honda's award-winning Parts and Body Shop staff:
Pat Knieriem - Parts Director
Kelvin Alfred - Parts Manager
kalfred@planethondanj.com
Parts Personnel: John Falihee, Sam Sonsona, Frankie Lopez, Leo Gomez, Hector Lopez, Dave Minich, Rod Montesdeoca

Parts Phone # (908) 964-8411
 Parts Fax # (908) 964-1063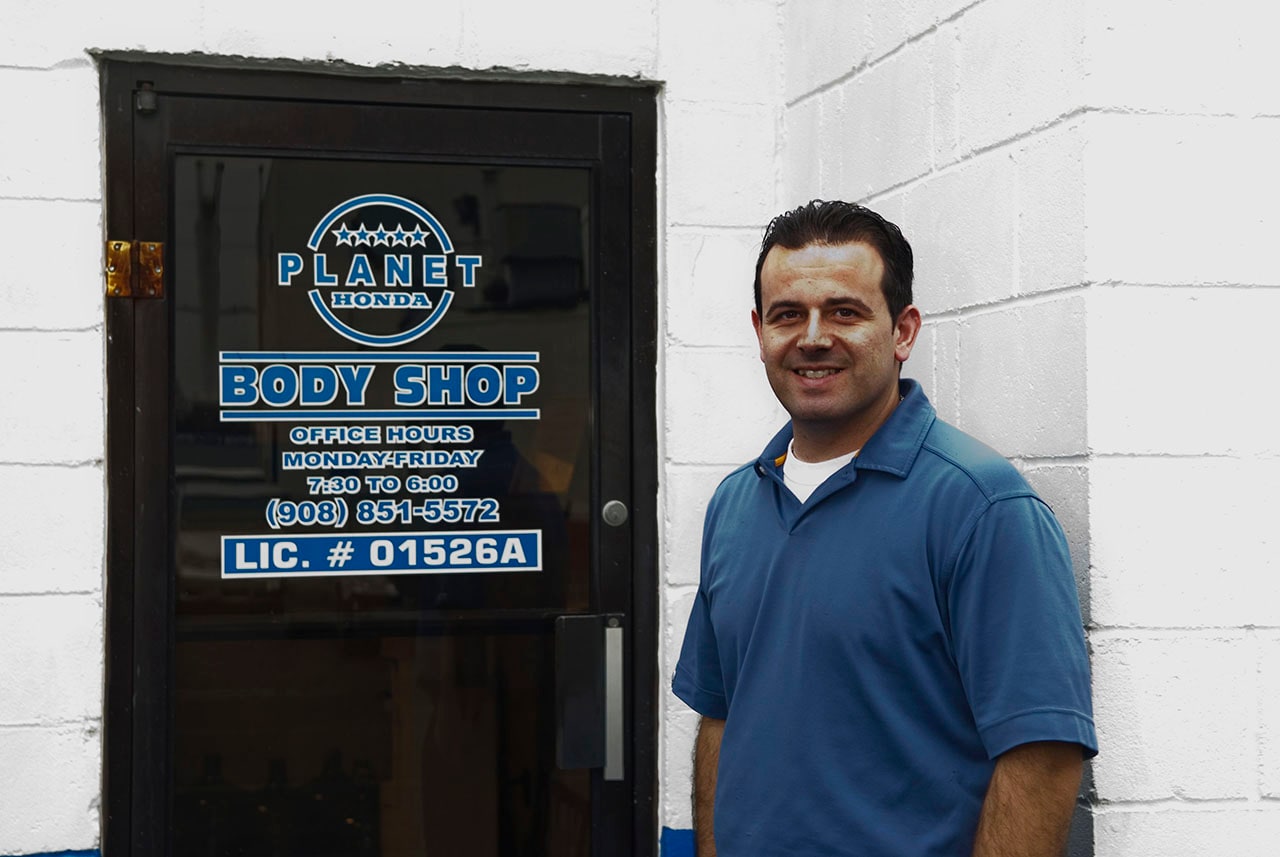 Paul Ferreira - Body Shop Manager   
pferreira@planethondanj.com
Tamara Twitty - Assistant Body Shop Manager
Ben Adams - Estimator
Body Shop Phone # (908) 851-5572

Body Shop Fax # (908) 851-5571